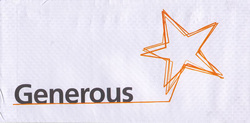 Mindfulness literature portrays the practice of generosity as the first prerequisite to the rest of the
Ten Perfections
. This precedence emphasizes the importance of generosity. Without generosity, the mind is tight, selfish, bound and shackled by a strong ego. Under such weight, it is not possible to find relief or explore what is possible.
With your own awareness of body, feelings, and mind, you can notice how generosity feels. It is light and not heavy. It engenders feelings of being at ease, warmheartedness, open and peaceful. It has a sensation of positive energy.
Now consider its opposite — stinginess. Feel the tightness, constriction, tension, fear and lack of ease in your body. In your mind's eye, experience the burden of your thoughts as consider the concept of stinginess.
Biochemistry shows that how we feel directly affects chemical reactions in our body through hormonal secretions and electrical spikes commensurate to our state of mind. So, if we truly listen to ourselves we know deep down that generosity promotes good health and happiness.
Check out the
recent article
by Terri Yablonsky Stat on the benefits of giving for your own health and happiness.