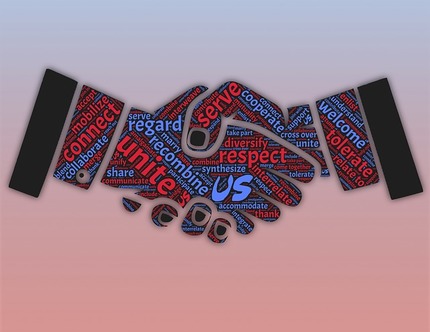 This election cycle has heightened the rhetoric of those speaking out against different ethnic groups and women. In the 10 days after Donald Trump became the official president-elect, 867 hate incidents were documented nationwide by the South Poverty Law Center in Montgomery, Alabama. The affects of racial hate are in front and center our own Portland metro backyard. In West Linn High School, students walked out in mid-November to protest students who called a fellow Muslim student a terrorist and a Latino student "illegal." At Lake Oswego High School, a racist comment was posted for several weeks on the student-run Facebook page and an anti-Semitic photo was posted in the school cafeteria.
Over the past few months, Dr. Larry Sherman, Professor of Neuroscience at the Oregon Health & Science University, gave several public talks on
You and Your Racist Brain: The Neuroscience of Prejudice
. He was also invited to speak to at Lake Oswego High School in early December in response to the post-election hate incidents on campus. In Dr. Sherman's view, racism exists when one group dominates, excludes or seeks to eliminate another group on the basis of differences that it believes are inherent, hereditary and unalterable. He further explains that racism, in large part, involves learned behaviors that stem from the human brain's tendency to engage in prejudice, a process where our brains make judgments that are not based on experience or reason.
I agree with Dr. Sherman's definition of racism and his linkage between the brain, conditioning and prejudice. Moreover, when we look at racism from the perspective of Mindfulness as a form of unwholesome judging, we can gain more insight about its direct affect upon us.
From a Mindfulness perspective, racism falls into the category of
judging
, which includes
comparing
. Judging is a normal part of our human makeup that is shared by all beings as a way to navigate life. Our ability to judge helps us to discern, for example, the differences between:
survival versus demise,
hunger versus being satiated,
right versus wrong,
big versus small,
us versus them,
superior versus inferior,
rich versus poor,
acceptable versus deplorable.
This ability to discern through judging and comparing can be beneficial in Mindfulness practice to distinguish between the concepts of
wholesome
versus
unwholesome
and
happiness
versus
suffering
. So it is not the act of judging or comparing that may cause us to suffer, but its applications and how we relate to them.
With wisdom as our guide, we can discern what kind of judging can cause stress and what kind of comparing can help us to eliminate suffering. Judgments or comparisons that cause friction, a breakdown in harmony, compromise peacefulness, threaten happiness, promote greed, hate and delusion (the latter three, known as the
Three Roots of Suffering
, according to the Buddha) are clearly
unwholesome
.
As we tune into our awareness of body, mind and feelings through Mindfulness Meditation, we can really sense how
unwholesome
conduct feels very different compared to
wholesome
conduct. When we turn our awareness mindfully to racism, we may experience the sensations of tightness, heaviness, constriction, uneasiness. Our heart may feel queasy and racy. We may feel an impulse to strike or run away. Our mind may become muddled or obsessed. We may feel unsafe. We may feel ill will, hate or fear arising. We may also experience that our sleep quality — and our health — are adversely affected. Indeed, Dr. Sherman views racism as "a public health problem" due to the high cortisol effects of stress on our bodies — both for victims and perpetrators.
The opposite of racism is tolerance. The experience of tolerance through Mindfulness practice may give us a bodily-felt sense of ease, release, warmth, lightness, groundedness, composure, contentment, and confidence. When we practice tolerance, we more likely experience a stronger impulse towards kindness, generosity, compassion, tranquility, happiness, and better health.
In our practice, we can overcome unwholesome judging by bringing awareness to our minds and noticing what arises. Our detached inner dialogue may include phrases such as:
"Ooh … this is intolerance."
"This is unwholesome judging."
"The mind feels this way."
"The emotion feels like this."
"The body is stressed out."
This internal feedback loop is our direct, authentic, experiential response to what is unwholesome.
Our practice of Mindfulness is enough to allow what is
unwholesome
to lose its grip and power over us. Take some time to contemplate which option is more beneficial for your well-being — tolerance or intolerance. As we deepen our awareness of cognition and bodily-felt experiences through meditation, we gain an insight that nurtures our wisdom in pursuit of a life free from suffering. We may reclaim, once again, our inner peace, and stay on the path to cultivate our happiness.